PRODUCTION AND ON-LINE SALE OF PIETRASANTA FIASCHETTO TOMATO
The tomato sauce or Fiaschetto tomato puree is a fine sauce that is obtained by cooking the Fiaschetto tomatoes and is used in very many manners by the Apulian culture, generally for first and main course seasoning, and tasty pizzas.


The first signs of this recipe preparation can directly be seen on ancient books: in fact, on his "Cuoco Galante"(1778) the author Vincenzo Corrado writes about this sauce, although at that time it was not just presented as a seasoning. Afterwards, further evidence emerged in 1779 in "Il Cuoco Maceratese" by Antonio Nebbia and "Cucina Casareccia" published in 1839, and in these cases the tomato sauce was just used to enrich the pasta and pizzas.



THE FIASCHETTO TOMATO SAUCE IN CONVERSION TO ORGANIC FARMING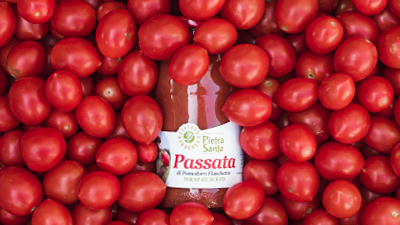 The ingredients are: fiaschetto tomato, salt, no citric acid.

The fiaschetto tomato puree of "Pietrasanta" Farm is the result of the family passion for this Apulian fruit, that controls the entire production process: from the selection of the ripest red tomatoes in the field until their collection and packaging which takes place in a few hours after their arrival at the laboratory.

The Pietrasanta Fiaschetto Tomato puree has an intense red colour with a very sweet taste and a sour aftertaste; these characteristics are conferred to the product by the particular composition of the soil, irrigation water, (surface wells along the coast that give salt-enriched water) and climate.

Our Fiaschetto tomato is in conversion to organic farming and is a historic cultivar of the territory between Ostuni and Carovigno, near Torre Guaceto Reserve coastline. It is a unique produce of its kind and is typical of the Brindisi area, where an extraordinary variety of protected ecosystems, including marine reserve, the coast, the wetlands, the Mediterranean scrub and agricultural areas, make this product rich of extraordinary and unique features!

Store in a cool and dry place. Once opened, store in the refrigerator.
BUY EXTRA VIRGIN OLIVE OIL | BUY TOMATO SAUCES AND CONSERVES | CONTACTS